Album Release Party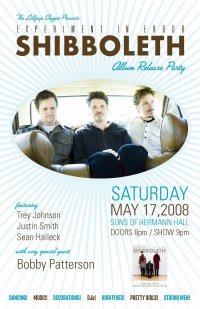 On
Saturday, May 17th
we'll be setting up camp at the
Sons of Hermann Hall
to celebrate the release of Experiment in Error. The lovely ladies of
The Lollipop Shoppe
are throwing this party and if history is any indication it'll be a hoot. Or a doozy. Probably not both, but anything is possible... There's gonna be DJs, and dancing and all sorts of decorations, just like when we were kids.
We'll be doing two sets that evening. The first will feature songs from
Experiment in Error
and some other nuggets. After a break (and some dancing by you, the energetic audience member) we'll return to the stage and tear through a set of covers featuring the vocal stylings of
Trey Johnson
,
Justin Smith
and
Sean Halleck
. But that's not all.... we'll be closing out this set with a handful of songs - including four brand-new ones - from
Bobby Patterson
.
After that... more dancing, although we'll most likely be down in the bar enjoying a frosty brew.
Did we mention the horn section? And the background singers? You're not gonna wanna miss this....
Saturday, May 17th
SONS OF HERMANN HALL
3414 Elm Street, Deep Ellum, TX
Doors 5pm
Show 9pm
$10
Labels: Experiment in Error, Gigs